Free Standard Shipping on US Orders!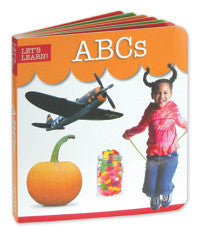 Noodle Soup Let's Learn: ABCs Lightweight Chunky Board Book
$6.99
Brainy Baby brings you the Noodle Soup Let's Learn ABCs board book gives your child a head start with learning their alphabet at home. The single most important way to help your children succeed in school is to read to them every single day. Even before children can speak books can help them learn numbers, letters, sounds, shapes, colors, and the names of things. An early introduction to learning basics for babies and toddlers. 
Introduction to learning letters of the alphabet for babies and toddlers;
Teaches ABCs with beautiful photography, bright and bold graphics and words;
Lightweight and chunky board book for little hands to carry;
5. 5 W x 5. 25 H
Ages 1 to 4 years